Dents are one of the most common types of bodywork repairs, whether due to a collision or even from hail damage. When your car gets a dent, it can be annoying and frustrating. However, if the dent is fairly small, you might be tempted to put off booking the vehicle for bodywork repair. Doing so could actually lead to more extensive problems further down the road.
Let's take a look at some of the top reasons why it is important not to delay bodywork repair when your vehicle is dented.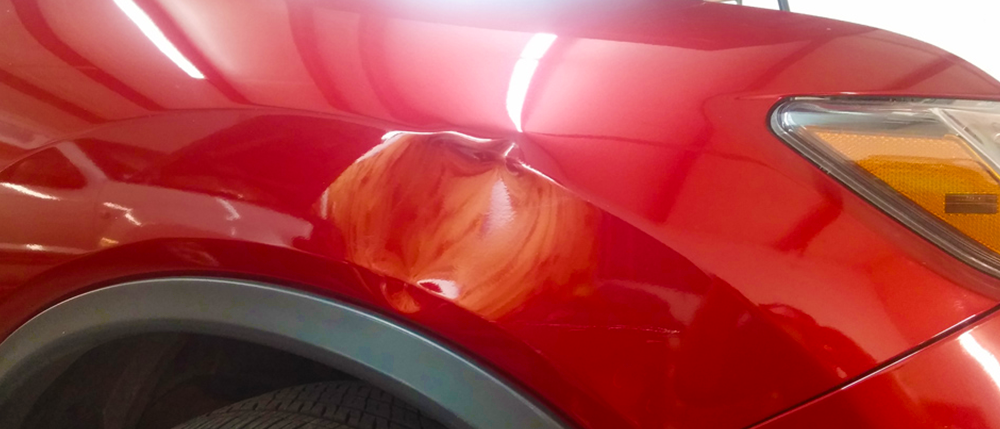 1 – Risk of Rust Spots
When a vehicle is dented, it may result in cracks and other damage to the paint. These cracks can allow water to get into the metallic part of the body which may cause rust spots. If left to its own devices, these rust spots are likely to expand, and the resulting damage will become more expensive to fix. It is far better to have an auto collision repair shop look at the dent straight away so that it can be fixed before rust has a chance to develop. Getting rid of that dent sooner rather than later is much more cost-effective in the long run.
Interesting! Up to 5 million tonnes of road salt is used in Canada each Winter to keep our streets clear of ice and snow. Unfortunately, when combined with the high humidity of Spring this can create the ideal environment for rust! (Source: Statistics Canada)
2 – Damaged Paintwork
As noted above, dents can cause damage to a vehicle's paintwork. If cracks in the paint are left unattended, it is likely it will begin to flake off or even begin to peel away. Damaged paintwork may also start to appear faded and discolored which is going to affect the aesthetic appeal of the vehicle. It is best to address the issue as soon as possible so that the paintwork can be treated before the damage gets worse. At Boyd Autobody & Glass we can carry out your bodywork repair quickly and efficiently, leaving the paint looking as good as new.
3 – Negative Impact on Resale Value
It might not be something that is on the cards right now, but there may be a chance in the future you wish to sell your vehicle or trade it in for a new one. If your bodywork repair has been handled by a professional body shop like Boyd Autobody & Glass, then it is likely the vehicle will have a higher resale value. However, if you have neglected the dents and not repaired them, even small ones can negatively impact the value of the car as it will be less attractive to buyers or dealerships.
--
Boyd Autobody & Glass has more than 25 years of experience in the collision industry. Customer service, peace of mind and a commitment to quality make up the foundations of the company, taking the stress out of collision/bodywork repairs. When you bring your vehicle to Boyd Autobody & Glass, we'll review the damages, provide you with an accurate written estimate, and walk you through the repair process.
Find your nearest location, or Schedule an Appointment Online!