Darn. Someone dinged your car door in the parking lot! It'll probably take weeks at the body shop to correct, patch, sand, and repaint the whole area, right? Wrong. What if there was a better way that's fast, easy, and saves you money? Enter PDR - Paintless Dent Repair.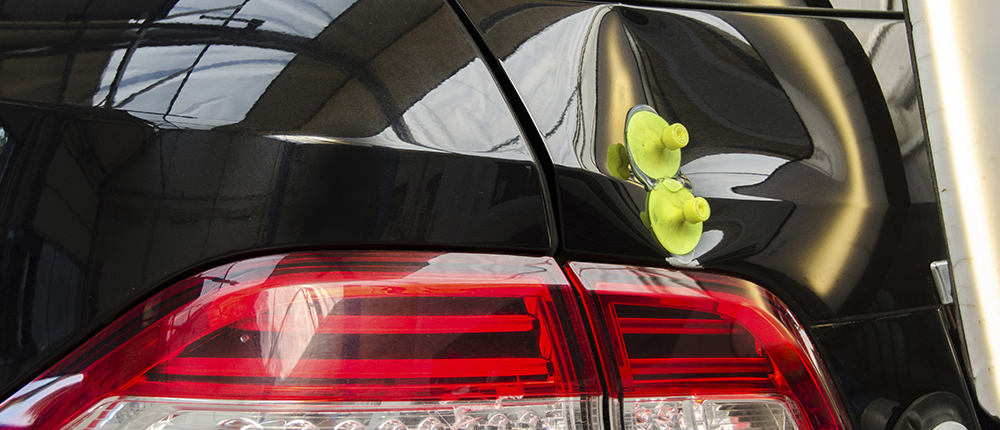 PDR can correct minor collision dents without all the hassle. You can have your dent fixed fast and for a reasonable rate.

As long as there is no paint damage on your vehicle, PDR may be right for you. It's perfect for the hail damage on the hood of your car. Or if your neighbor dents your side door, PDR can do the trick. It is easy to fix minor dings and even large dents. No metal exposed? You're likely good to go.
The three main reasons to use PDR to remove dents
Save time: PDR is faster than traditional repair. Same-day repair is even possible depending on how severe the dent. Ask your body shop how long your repair will take.
Save money: Avoid the traditional 3 step process of bonding, sanding, and repainting with PDR. And you won't have to replace the entire panel! Paintless Dent Removal saves on materials and saves you money.
Simplicity: PDR is a deceptively simple process that is best left to the pros with the correct equipment and training. If your vehicle is still under warranty, it may become void if you attempt the repair yourself.
FAQs about PDR / Paintless Dent Repair
Can you fix any make or model of vehicle with the PDR technique?
Yes! PDR is effective on both aluminum and steel auto body panels.
Has PDR been around a long time?
Oskar Flaig invented it in 1960. He worked for Mercedes, taking care of vehicles used in trade shows. Oskar had to repair minor dings and scratches to a pristine state overnight. He began by using a hammer handle to push out dents. PDR training was widespread in Germany under his direction. PDR came to the US in the 1980s and since has become a trusted technique.
Does it really cost less than traditional repair?
Yes! It takes a fraction of the time to remove dents with PDR. It is a cost-effective solution, for minor damage. Many insurance companies recommend PDR for eligible dents. Ask your body shop if they do PDR and for an estimate comparison.
How long does PDR take?
If you have just one small, dime-sized, ding - about 15 minutes. If your car gets hit by lots of hail, it could take 2 - 3 days to remove all the damage. But these are extremes. Same day repair is the standard for paintless dent removal. 1-2 hour jobs are common.
Will a paintless repair look as good as it did before the accident?
Yes! PDR can restore the appearance of your vehicle. It may even look like the collision never happened! This is because PDR doesn't break the original finish on your vehicle. You can avoid trying to match the original paint color. This helps save your car's resale value.
Will Paintless Dent Repair crack the paint?
Generally, no. PDR, when done properly, will not damage the surface of your vehicle. Traditional repair breaks the original finish and sometimes voids the manufacturer's warranty.
Should I try to remove dents myself?
You risk voiding your warranty on the paint if you try to fix a dent yourself. Don't try using a toilet plunger. Or pour boiling water on your plastic bumper. Avoid DIY dent pullers. These won't restore your car to its original state. Skilled PDR technicians have the training, tools, and experience to repair it right.
Is PDR earth-friendly?
Absolutely! PDR is not toxic. It uses a glue gun and specialized manual tools to remove dents. Traditional repairs use fillers, primers, paints, and solvents. Most PDR techniques use non-electric tools which saves energy.
Are there repairs that PDR can't fix?
Of course, PDR has limitations. A PDR technician will check the depth, severity, and location of the dent. Deep damage and torn metal requires traditional bodywork. PDR is not possible on chipped or scratched paint.
Will using PDR affect the resale value of my vehicle?
If you use PDR, you might have it excluded from your vehicle information report (VIR). This is the report that buyers ask to see when buying a vehicle. It lists the accidents and damage that has happened to your car. Typically, the more damage, the less your car will be worth. Ask your body shop.
_______________________________________________________________________________
Boyd Autobody & Glass is proud to offer Paintless Dent Repair at select repair centre locations. Find out if PDR is right for your vehicle at one of our PDR locations.
Want to learn more? See photos of actual repair jobs using Paintless Dent Repair, visit: boydautobody.com/paintless-dent-repair