Winter is here, and whether you like it or not, snow comes right along with it. Winter is a time to be sitting warmly by a cosy fireplace, not sitting in your cold car after getting stuck in the snow.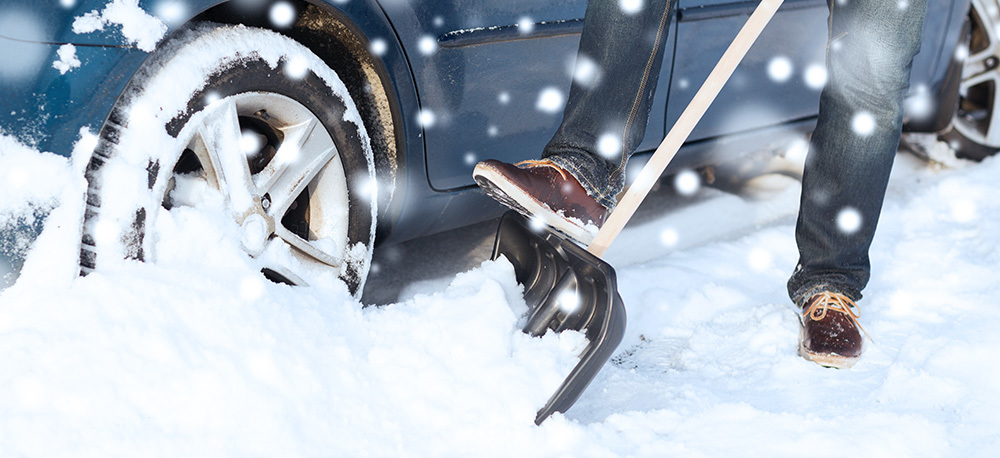 However, getting stuck in the snow is a common occurrence during the winter season. If you find your vehicle stuck this winter, keep these tips in mind:
Getting Unstuck
Don't spin your tires

When your vehicle is stuck in deep snow, your first instinct might be to rev your engine and force your way free. But, whatever you do, do not spin your tires. This will only dig your vehicle in deeper.

Instead, attempt the following:
Rotate your tires from one side to another, pushing snow out of the way. (If you have a shovel handy, use it to clear away as much snow as you can.)

Next, manually shift into first gear (if your vehicle allows it), and gently step on the gas, rocking backwards and forwards a couple of inches at a time.

Repeat the process until you roll out of the rut and gain enough traction to drive away.
Apply traction
Tires need something to grip onto, and when snow gets slick, tires start spinning. Keep some gravel or cat litter in your winter kit to help add traction when stuck in deep snow. If you don't have sand available, you can also try placing cardboard, car mats, twigs, or other items to provide traction.
Let out some air from your tires

If you are still unable to drive out of the ruts, you can try expelling some air from your tires, just enough to make them noticeably lower. This allows more rubber from the tire to come in contact with the road, giving more traction. This option should be your last resort, and tires must be refilled as soon as your vehicle is back on the road.


If Your Car Isn't Going Anywhere
If all your attempts to dislodge your vehicle have been unsuccessful, then the best thing to do is to stay inside your car until help arrives. (In some cases, you may be able to seek shelter in a nearby house, store or restaurant.) Keep your hazard lights on to signal for help and to prevent other drivers from accidentally hitting your car.
Call for help
Make sure that you can always call for help when you need it by keeping your cell phone with you and fully charged. That way, if you do get stuck, friends, family or safety services can come to your aid right away.
If you don't own a cell phone, or can't always have it on you, let someone know where you are going, when you are leaving, and when you expect to arrive, then that person will know to notify the authorities if you don't show up.
Bundle up
Naturally, the best time to prepare for this situation is before you even step out the door. While toques and mitts may seem unnecessary when jumping into a toasty warm preheated vehicle, that heat can quickly disappear if you are left outside for a long period of time. Never leave home without dressing for the weather.
It's a great idea to keep a blanket or an extra set of warm clothes in your trunk along with your winter kit. However, if the time comes and you don't have anything with you, then be resourceful. Use whatever you can find to add extra insulation (ex. removable seat covers, car mats, etc.) while you wait for help to arrive.

Often it is during these moments that we realize we could have been better prepared. Don't be caught off guard this winter. Always have a winter kit in your vehicle filled with warm clothes, flashlights, traction aids, and a shovel. Thinking ahead is the best way to stay safe this winter season.

Winter is one of the most dangerous times for driving. Icy roads, heavy snow and cold temperatures cause a disproportionate number of accidents and collisions each year. Boyd Autobody & Glass is there for you when you need to get your car back on the road.